Junior Leadership Training
Saturday, July 21st, 8:00 am - 12:00 pm
Scout Hut
The troop will be conducting a leadership training class for all scouts holding a Position of Responsibility for the next six months.
WHO: If your scout is a SPL, ASPL, Patrol Leader, Assistant Patrol Leader, Troop Guide, Quartermaster, Scribe, Historian, Librarian, Bugler, Instructor, Den Chief, etc. - they are highly encouraged to attend this training.
WHAT: The ILST course teaches scouts with leadership positions about their new roles and how to most effectively reach success in that role. It is intended to help youth leaders understand their responsibilities and to equip them with organizational and leadership skills to fulfill those responsibilities.
WHERE: 465 Scout Hut
WHEN: Saturday, July 21st 2018 8:00am to 12:00pm
WHY: Troop 465 believes that regular training is vital to being a strong leader. At the end of this class attendees will be considered trained for their troop leadership position and entitled to wear the "Trained Strip" on their uniform sleeve.
HOW: It is FREE. Sign up with the Senior Patrol Leader. Show up on time with a notepad, pen, and a copy of the Patrol Leader Handbook if you have one.
E-mail questions to Mr. Norred, jason@norred.net


Kyle Lamanac's Eagle Scout Court of Honor
Sunday, July 22nd, 3:00 p.m.
Rock Springs Baptist Church, 1640 Rock Springs Lane, Woodstock, GA 30188, https://goo.gl/maps/ez6r7TUfZFB2
Please join us for Kyle's Eagle Scout Court of Honor. All scouts, adult leaders, alumni, and their families are invited to attend. A reception will immediately follow the ceremony. Please let Lynn Lamanac know if you have any questions (Lynn: 770-894-9478).


Nate Matthews Eagle Project
Saturday, July 28th, 8:30 am - finished
St. George Village, 11350 Woodstock Rd, Roswell, https://goo.gl/maps/k1ynnBz7hdt
Nate's Eagle project is set for July 28, 2018. Be there at 8:30 am. The project consists of digging six post holes, setting the posts, mounting the bluebird houses and planting flowers in four planter boxes. The following tools are needed, wheelbarrow, post hole diggers, shovels and gloves. Snacks in the morning, water, Gatorade and lunch will be provided.
Directions for parking will be provided at a later date.
Direct any questions to Nate Matthews.
Troop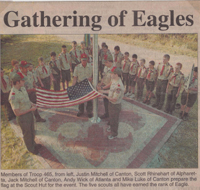 465 History Project
John Ballard and Nancy Wick, along with several others, have been collecting items for some time for the Troop 465 history project, and would like your input and help.
If you have any photos, news articles, personal stories that you would like to scan, and send us, or let us borrow them to scan them for this history project, it would be most helpful.
As of February 2018, Dan Warner is putting together a draft document to be edited by John Ballard with release by summer camp. We would then have several review meetings where we could use your comments and inputs. We have a number of items, including all the yearly rosters, but could always use more stories of your memories of the Troop.
In addition to the history document, we plan to set up a history museum in the not too distant future to display the photos and other articles. Many of these items will also enhance our website.
Some of the items needed are a list of the Troop activities and their locations over the years, such as, canoeing, kayaking, whitewater, backpacking, hiking, camping, summer camps, training, exploring caves, historical trips, Philmont treks, Seabase trips, Eagle projects, Courts of Honor, and many more.
With many of you helping (both past and present Troop members and families) this can be a very rewarding project!!!
We also need photographs of the Vaughn Rd Scout hut, or maybe someone could take some current pictures of it.
Please submit your items to Dan Warner at dfwarner2013@gmail.com, or call him at 678-488-5925, or stop by the Scout hut on Monday nights.
Thank you for your assistance,
Troop 465 History Committee


Richard Smith's Appalachian Trail Through Hike Journal
Richard Smith, a former Troop member and soon to be grandparent of a 465 Scout, is starting his AT through hike on April 10th. Here's a link to his trail journal so you can follow his progress, http://www.trailjournals.com/journal/entry/583760.
The purpose of the Boy Scouts of America, incorporated on February 8, 1910, and chartered by Congress in 1916, is to:
Provide an educational program for boys and young adults to build character.

Train in the responsibilities of participating citizenship.

Develop personal fitness.
How you can get involved:
JOIN as a youth member with Troop 465.

VOLUNTEER as a Troop Committee member or Assistant Scoutmaster

GIVE to 465 Alumni Inc. to support Troop 465's sponsor.
Serving youth for over 50 years, Troop 465 has had a proud heritage of molding boys into men according to the criteria listed above. Our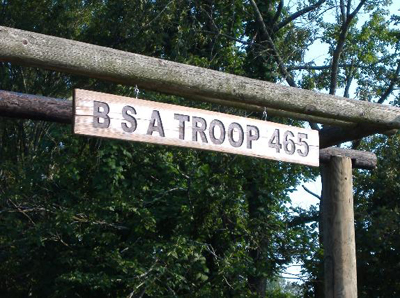 Scoutmaster Emeritus, George Lingefelt, say's "If you want boys to become leaders, you have to train them and then let them lead", and thus began our "boy-lead troop" mind set. Clay Limbaugh is our current Scoutmaster and passes these skills on. In fact, Scoutmaster Limbaugh is only our 7th Scoutmaster since 1963.
Since 1996, the Troop Sponsor has been 465 Alumni, Inc., dba Friends of Troop 465, a non-profit organization specifically enacted to support Troop 465 both financially and philosophically. Troop 465 has a permanent Scout Hut, on over 3 acres, thanks to the generosity and foresight of 465 Alumni, Inc.
Troop 465 is unique because of the tremendous support from our members and their families. If you would like more information about joining troop 465, please click here.