Troop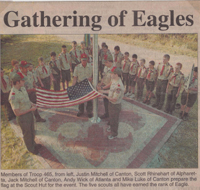 465 History Project
John Ballard and Nancy Wick, along with several others, have been collecting items for some time for the Troop 465 history project, and would like your input and help.
If you have any photos, news articles, personal stories that you would like to scan, and send us, or let us borrow them to scan them for this history project, it would be most helpful.
As of February 2018, Dan Warner is putting together a draft document to be edited by John Ballard with release by summer camp. We would then have several review meetings where we could use your comments and inputs. We have a number of items, including all the yearly rosters, but could always use more stories of your memories of the Troop.
In addition to the history document, we plan to set up a history museum in the not too distant future to display the photos and other articles. Many of these items will also enhance our website.
Some of the items needed are a list of the Troop activities and their locations over the years, such as, canoeing, kayaking, whitewater, backpacking, hiking, camping, summer camps, training, exploring caves, historical trips, Philmont treks, Seabase trips, Eagle projects, Courts of Honor, and many more.
With many of you helping (both past and present Troop members and families) this can be a very rewarding project!!!
We also need photographs of the Vaughn Rd Scout hut, or maybe someone could take some current pictures of it.
Please submit your items to Dan Warner at dfwarner2013@gmail.com, or call him at 678-488-5925, or stop by the Scout hut on Monday nights.
Thank you for your assistance,
Troop 465 History Committee