Appalachian Trail Backpacking Trip
September 21 - 23, 2019
Frank Gross Campground, https://goo.gl/maps/hf1Dfb93sf5J5Gq9A
Suches, GA
We are planning to have an Orienteering and Hiking trip on September 21st-23rd near Suches, GA. This is the weekend before Cherokee County Schools Fall Break - and we are currently planning to run this trip Saturday morning until Monday afternoon.
This trip has it all! Don't miss it! We'll be base camping at Frank Gross Campground, trout fishing on Rock Creek, hiking the Appalachian Trail around Hightower Gap on Sunday, and visiting the Chattahoochee National Fish Hatchery on Monday morning. Mark your calendars now.
See Mr. Sewell for information on this trip.
You can pay for this event at the Troop's Square store https://squareup.com/store/troop465
Scout in Charge – TBD
Adult in Charge – TBD
Upcoming
December 14, 2019
Veteran's Cemetery
Service Project
Wreath's Across America
December 22, 2019
Christmas Court Of Honor
January 11 - 12, 2020
Escalade Lock-in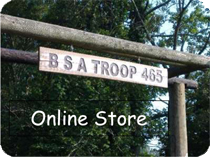 Troop 465 Online Store
Pay for outings, dues, and purchase Troop merchandise