Spring Backpacking Trip
Cancelled
Fort Mountain State Park, Chatsworth GA
Departure: Depart from the Scout Hut morning of Saturday April 25th.
Return: Approximately lunch time Sunday April 26th.
Format: Backpacking style. Tents.
Distance: We will have 2 route options. One will be longer and more strenuous for the Philmont Crew. The other will be shorter. But we will all end up in the same location and camp together as a group.
Other Info: The site we have reserve has a maximum of 30 people. So if you already know you can attend, sign up below.
RSVP here: https://www.signupgenius.com/go/4090a4dafad22a20-spring
Scout in Charge – TBD
Adult in Charge – David Lipscomb, r.david.lipscomb@gmail.com
Upcoming
December 4 - 5, 2020
Escalade Climbing Gym Lock In
December 5, 2020
Scout Hut Workday
December 6, 2020
Anthony Palmer & Joey Canale's Eagle Court Of Honor
December 13, 2020
Christmas Court Of Honor
Scout Hut
January 29 - 31, 2020
Cloudland Canyon Campout
February 1, 2020
Registration Deadline
Okefenokee Swamp Canoe Trip
February 13 - 16, 2020
Okefenokee Swamp Canoe Trip
June 13 - 19, 2021
Summer Camp
Camp Rainey Mountain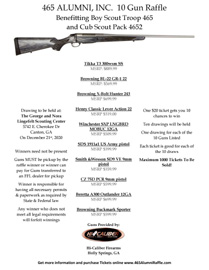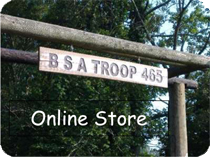 Troop 465 Online Store
Pay for outings, dues, and purchase Troop merchandise