Cloudland Canyon Campout
Saturday, January 30 - Sunday, January 31, 2021
Cloudland Canyon State Park
Location: Cloudland Canyon State Park, Rising Fawn, Ga
Format: Camping/Hiking
Dress code: Field Uniform (Class A) for travel. Winter backpacking clothes for activities.
Drop off: Scout Hut, Saturday, January 30th, 8:00 am
Pick up: Scout Hut, Sunday, January 31st, 3:00 pm. We'll call as we get close.
Food: Individual Cooking for SATURDAY (L/D) and SUNDAY (B)
Costs: $10.00 Prepaid for camp costs & $10.00 cash for Lunch Sunday
If your scout is one of the 13 signed up to attend the Cloudland Canyon camping trip next weekend, they must have their equipment approved (gear shakedown) by this coming Monday or they will not be able to attend. This is a cold weather campout with several miles of day hiking and there is a chance of rain - so it is critical that every camper have the correct gear.
Last Monday's gear shakedown had most scouts missing key items, so here are a few reminders, based on the feedback I heard. (A complete packing list can be found in your handbook)
Cold Weather Clothing :: base layers (non-cotton), coat, gloves, beanie hat
Rain gear :: a good rain jacket or sturdy poncho - no thin disposable ponchos
Tent not hammocks :: Make sure you know how to put it up with the rainfly
Sleeping Bag rated for 20F :: if you need some extra warmth, look into a 'sleeping bag liner'
Sleeping Pad :: Foam or inflatable pad to put between your bag and the tent floor
Water bottles :: Two 1L bottles recommended
Footwear :: Footwear designed for hiking, and extra socks (avoid cotton)
Food :: Everyone is cooking their own meals, backpack style. So bring backpack meals, a personal stove and mess kit you can cook with.
(If you need to borrow equipment please let me know before Monday 1/29.)
Drop off for this campout is 8:00AM Saturday at the Scout Hut. (Please turn in a permission slip before leaving)
Pick up will be between 3:00PM and 4:00PM on Sunday at the Scout Hut
Please bring $10 cash for Sunday fast food stop.
Information/Permission Form: http://www.troop465.org/Docs/2021_Cloudland_Canyon_Info_Perm.pdf
Signup: https://www.signupgenius.com/go/4090a4dafad22a20-cloudland
Upcoming
March 15, 2021
Registration Deadline
Spring Camporee
March 26 - 28, 2021
Spring Camporee
April 5, 2021
Registration Deadline
Iron Chef Campout
April 16 - 18, 2021
Iron Chef Campout
June 13 - 19, 2021
Summer Camp
Camp Rainey Mountain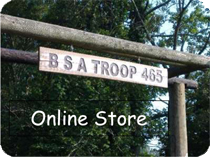 Troop 465 Online Store
Pay for outings, dues, and purchase Troop merchandise