Library
Here you'll find useful documents that aren't necessarily forms such as packing lists, books of games, books of recipes, etc.
If you have a document that would be useful to the Troop send it to webmaster@troop465.org

PLANNING GUIDES

Program Features for Troops, Teams, and Crews bring together 48 features to help making program planning easier for unit and youth leaders. The online version puts interactive planning resources at your finger tips or download each of the volumes individually to print and share.
Troop Guide Lesson Plans For Training New Scouts are skill teaching sessions intended to help you guide the scouts in your charge. As a Troop Guide, your main goal is to make the first year of scouting a successful, fun, growing experience for the newest scouts in our troop. Giving them an excellent adventure right off the start will help ensure the health of our troop and advancement of the individual scouts.

CHAPLAIN'S RESOURCES


GAMES


COOKING


OTHER SKILLS

AAC JLT Participants Notebook (a collection of Leadership and Scoutcraft stuff)
Animated Knots (a nifty little guide to knots)
Tracking - Search and Rescue
Upcoming
June 5 - 11, 2022
Summer Camp
Camp Daniel Boone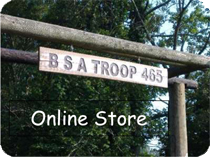 Troop 465 Online Store
Pay for outings, dues, and purchase Troop merchandise