Ocoee Rafting Trip
Sunday, July 28, 2019
The start time or put in time is aprox 9:00 am. There are 2 options, either leave the hut 2 hours earlier or camp the night before at Persimmon Creek campground, which is 30 min away. Cost is $42.00 per person to raft plus any food or extras. If we choose to camp it is an additional $8 per person to camp.
Please let Thomas or Nathan Sewell know if you want to go and if you want to camp. We will only camp if the majority want to. The Ocoee has an age limit of 12 years old. Andy Wick will be one of the guides and the other adult in charge on the trip. The number of kids going will determine the number of adults required to drive.
Please use this link https://squareup.com/store/troop465/item/ocoee-rafting-trip-july to register and pay for the trip.
For everyone, youth and adult attending the Ocoee rafting trip this weekend you must have a signed liability waiver. For Scouts it must be signed by their parents/gaurdians. For more information about the river visit the outfitters website, Carolina Ocoee, https://carolinaocoee.com/ocoee-river-rafting.
Carolina Ocoee Liability Waiver
INFORMATION SHEET/PERMISSION SLIP
Scout Lead - Nathan Sewell
Adult Lead - Thomas Sewell, sewell262@windstream.net, 648-468-6802
Upcoming
Virtual Troop Meetings & Scouting
Until Further Notice.
Check your email for specific Information.
June 7 - 13, 2020
Summer Camp
Postponed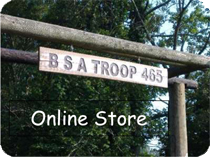 Troop 465 Online Store
Pay for outings, dues, and purchase Troop merchandise