Scout Hut Campout & Adult Workday
Friday, April 12 - Saturday, April 13, 2019
Troop 465 Scout Hut, https://goo.gl/maps/UBnQEyXQXET2

Location: Troop 465 Scout Hut, https://goo.gl/maps/UBnQEyXQXET2
Format: Patrol Campout & Adult Workday
Dress code: Activity Uniform (Class B) & Work Clothes
Drop off: Scout Hut, Friday, April 12th, 6:00 pm (Already having had dinner)
Pick up: Scout Hut, Saturday, April 13th, 5:00 pm
Food: Patrol Cooking (Saturday Breakfast and Lunch only)
Costs: Patrol food costs only
The weekend after next, we are holding a Patrol Campout and an adult workday at our Scout Hut. All boys will be able to camp Friday night in patrol campsites behind the hut, and on Saturday have opportunities to work on rank advancement and several other patrol projects. I encourage all of our scouts (new and veteran) to attend this campout and just spend a Friday and Saturday becoming a stronger team with their patrolmates. Please reply & let me know if your scout is planning on attending.
Our plan is to have equipment and materials available for patrols that want to spend time improving their Patrol Flag, or making wood name plaques for our advancement walls. Help will also be available for any patrols that want to put work into personalizing their patrol campsite. If you have spare fabric, other flag decorations, sewing materials, wood burners or wood working tools - it will all be useful on Saturday.
In addition - all adults are invited to attend Saturday for a Scout Hut cleanup and workday. There are several projects around the property that need attention (from clearing limbs and brush to organizing our storage trailer and inside the hut). Our Troop Committee, at the direction of Committee Chair, David Canale and Facilities Coordinator, Lynn Sewall - will provide direction on Saturday to all the priority projects.
Scout Lead - Ben Limbaugh, spl@troop465.org
Adult Lead - Jason Norred, jason@norred.net, 678-516-0146
Upcoming
Virtual Troop Meetings & Scouting
Until Further Notice.
Check your email for specific Information.
June 7 - 13, 2020
Summer Camp
Postponed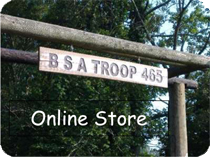 Troop 465 Online Store
Pay for outings, dues, and purchase Troop merchandise