Providence Canyon/National Infantry Museum Trip
Friday January 27 - Sunday January 29, 2023
Providence Canyon State Park, Lumpkin, GA
National Infantry Museum, Columbus, GA
Sign Up: https://www.signupgenius.com/go/4090a4dafad22a20-2023
January 9th Update......
Troop,
We still have some room on our upcoming Providence Canyon and National Infantry Museum trip. Just below the general information is a general itinerary with information on meals, departure/arrival times, etc.
When: Friday January 27th thru Sunday January 29th, 2023
Where: Providence Canyon State Park in Lumpkin, GA and National Infantry Museum on Fort Benning in Columbus, GA. We will camp on Friday and Saturday night at Providence Canyon park (https://gastateparks.org/ProvidenceCanyon). On Saturday, we will hike and explore the canyon. On Sunday morning, we will visit the National Infantry Museum (https://nationalinfantrymuseum.org/) in Columbus on the way home.
Cost: Approximately $20 plus cost of food
Sign Up: https://www.signupgenius.com/go/4090a4dafad22a20-2023
What To Bring: More will be discussed during the Scout meetings, but in general, bring personal camping gear, weather appropriate clothing, and essentials such as water bottles, rain gear, flashlight, small pack for hiking, etc. I underscore rain gear just in case. I believe we have a field where we are camping so I am ok with Scouts bringing things like frisbees, football, etc. Your Scout will also need money for lunch on the way home Sunday, to pay his grub master and for anything they otherwise might purchase on the trip, such as snacks, souvenirs, etc. Also bring your Scout book. We will have a good ratio of ASMs to scouts. There should be time to work on requirements.
Food: Scouts will plan their menus before the trip and cook as a patrol. One scout from each patrol will be the grub master for their patrol. I will be the adult grub master. If adults have not let me know of any dietary restrictions, please reach out to me. If your scout is not the grub master, please be sure they reimburse the grub master for their patrol for food costs.
General Itinerary:
Friday January 27th
• Arrive at Scout Hut by 4:45pm
• Depart at 5pm
• Arrive at approximately 8pm
• Please send dinner with your scout or have fed them by the time they arrive. We will be arriving late so we won't have time to stop for dinner Friday night.
Saturday January 28th
• Scouts will prepare their breakfast in camp.
• Hike/see Providence Canyon – Possible lunch on the trail Saturday
• Dinner in camp Saturday night
Sunday January 29th
• Quick breakfast in camp
• 9am departure from camp
• 10am arrival at National Infantry Museum
• 1pm departure from National Infantry Museum
• Lunch in route towards home
• Estimated arrival at the Scout Hut 3 to 4pm
We will call in route home, so parents aren't waiting too long at the Hut for pickup.
If you have questions, please let me know.
YIS,
David Lipscomb
678-727-6167
D.Lipscomb@appliedmachine.com
Providence Canyon is sometimes called Georgia's "Little Grand Canyon". Providence Canyon gullies are up to 150 feet deep but are not naturally occurring. They are the result of erosion and poor farming practices in the 19th century. https://gastateparks.org/ProvidenceCanyon

The National Infantry Museum is situated on Fort Benning in Columbus, GA and honors the legacy and valor of the US Army Infantryman. More about the museum here. https://nationalinfantrymuseum.org/

Upcoming
March 24 - 26, 2023
Spring Camporee
Woodruff Scout Camp
April 28 - 30, 2023
Merit Badge &
Fishing Campout
Camp Allatoona
Aquatics Base
May 12 - 13, 2023
Lock-in
Escalade Rock
Climbing Gym
June 11 - 17, 2023
Summer Camp
Camp Daniel Boone
August 26, 2023
60th Anniversary
Celebration
Scout Hut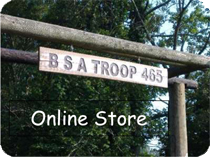 Troop 465 Online Store
Pay for outings, dues, and purchase Troop merchandise