Okefenokee Swamp Trip
Saturday, February 16 - Tuesday, February 19, 2019
Okefenokee National Wildlife Refuge
Due to logistical challenges, the destination for our winter break long distance camping trip has changed. Instead of "Sapelo Island", we are changing plans and will be camping/canoeing in the Okefenokee Swamp. The trip is still scheduled for February 16-19th and will cost $30 per scout. Due to space and equipment limitations, we will only be able to take the first 14 scouts that register. Mr. Lynn Sewell is the Lead Adult, please see him at next meeting for a permission slip.
Scout Lead -
Adult Lead - Lynn Sewell, lcs021050@comcast.net, 404-226-0168
Upcoming
Virtual Troop Meetings & Scouting
Until Further Notice.
Check your email for specific Information.
June 7 - 13, 2020
Summer Camp
Postponed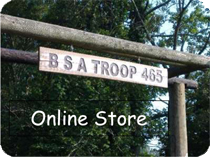 Troop 465 Online Store
Pay for outings, dues, and purchase Troop merchandise