Our next troop campout is the March 22nd - 24th "Scout Challenge" Camporee. This campout is a special Council-wide camporee and is expected to have over 4000 scouts in attendance from all over Georgia and other surrounding states. This promises to be a memorable, jamboree-like experience of a lifetime immersing scouts in patrol and individual adventure, activities and competitions.
At this camporee, the boys in our patrols will be able to wander Bert Adams Scout Camp participating in over 50 different fun "challenges" - both patrol and individual competitions.
Here is just a sample of some of the fun activities planned: Ninja Warrior Challenge -- Giant Connect 4 Challenge -- Scout Perfect Challenge -- Drone Obstacle Challenge -- Giant Cornhole Challenge -- Challenge Jousting -- Broom Hockey Challenge -- Climbing Challenge -- OA Interpatrol Challenge -- Scouting's Got Talent -- Giant Chess Challenge -- STEM Challenge -- Escape Room Challenge -- 3D Archery Challenge --Tough Mudder Challenge -- Gaga Pit Challenge -- Human Foosball Challenge -- Full Sized Jenga -- Giant Angry Birds -- Leave No Trace Challenge -- 4 square in the air -- Giant Battleship Challenge-- Paintball Challenge -- Mountain Biking Challenge -- Tomahawk Throwing Challenge -- Ham Radio Challenge -- Fitness Challenge -- Super Slingshot Challenge -- Giant Pacman Challenge -- and many more
The fee this camporee is $30 per attendee (scouts and adults). Sign-up is open NOW using the troop's online store: https://squareup.com/store/troop465/item/camporee (please include the names of your campers in the notes section of your payment). Note that this payment covers the cost of the camporee program, but each scout may also have to chip in a few bucks on patrol food costs.
Scouts and leaders must be signed up by the February 25th troop meeting to attend this camporee! This means you have just under 2 weeks to register if you are going.
Talk to your sons, and have your sons talk to their patrols. Let's have a great 465 turnout and an awesome camporee!
INFORMATION SHEET/PERMISSION SLIP
Scout Lead -
Adult Lead -
Upcoming
Virtual Troop Meetings & Scouting
Until Further Notice.
Check your email for specific Information.
June 7 - 13, 2020
Summer Camp
Postponed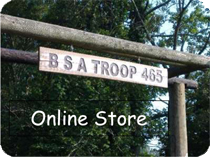 Troop 465 Online Store
Pay for outings, dues, and purchase Troop merchandise