Scout Sunday
Sunday, February 27, 2022
The Pointe Church, https://goo.gl/maps/7sxayze5ZeVPavRQ7
The first point of the Scout oath is "To do my duty to God". The twelfth point of the Scout Law is Reverent. From the Scout Handbook, "A Scout is reverent. A Scout is reverent toward God. He is faithful in his religious duties. He respects the beliefs of others." Your family and religious leaders teach you about God and the ways you can serve. You do your duty to God by following the wisdom of those teachings every day and by respecting and defending the rights of others to practice their own beliefs. The Boy Scouts of America designates the Sunday that falls on or about February 8th (Scouting Anniversary Day) as Scout Sunday, which is the primary date to recognize the contributions of young people and adults to Scouting.
Our approximate schedule is as follows:
11:00am-12:00pm The Pointe Church (207 Marvin Land Lane).
12:30pm-1:45pm Johnnys Pizza (Hickory Flat)
2:00pm-3:30pm Cherokee Lanes (Canton)
Plan to bring $20 to cover your pizza and bowling… Call or Text Camden or Brian Jones for information at 678-773-0986 or if you are an adult who can help drive. If you want to meet up with us at Johnnys or Cherokee Lanes then please let Mr Jones know so that we can plan accordingly as the above times are estimated.

Upcoming
June 5 - 11, 2022
Summer Camp
Camp Daniel Boone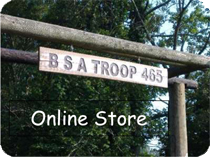 Troop 465 Online Store
Pay for outings, dues, and purchase Troop merchandise