Shooting Sports Campout
Friday, July 12 - Sunday, July 14, 2019
Pickens County Sportsman Club, https://goo.gl/maps/UskNbDCfEvz
Parents and Scouts,
In July we have our Shooting Campout at the Pickens County Sportsman Club in Talking Rock, GA. Members of the Club will host our Troop and allow Scouts, Scouters and Parents to shoot various types of firearms.
This will be conducted safely and in a manner compliant with BSA policy. And Scouts have the option to work on Rifle and Shotgun Merit Badge. And we will be camping on their property both Friday and Saturday night.
Dates/rough schedule as follows:
• Friday July 12th – Parents drop off Scouts at Pickens County Sportsman Club. Camp Friday night.
• Saturday July 13th – Shooting activities and camp Saturday night.
• Sunday July 14th – Parent pickup by 10am.
Below are several documents for this campout. Several need to be completed and returned to Mr. Lipscomb electronically or delivered to him at the Scout hut during meetings.
• First, the information sheet lists more details and costs for the event. For everyone camping and shooting, the cost is $7 for camping and $10 for shooting which includes the Cowboy Shoot. Merit Badges would be and additional $5. Please note, if you take a Merit Badge, you may not have time for other shooting activities but this is a good opportunity to work on Merit Badges for shooting.

• Second, there are 3 permission type documents. One is required by the Troop for the event and the others by the Pickens County Sportsman Club.
Additional information will be announced in meetings and as the event approaches. Mr. Lipscomb needs everyone that is interested in attending to let him know as soon as possible so he can begin getting rough headcounts. He needs to know how many scouts, scouters and adults will be attending as soon as possible.
Pickens County Sportsman Club Liability Waiver
Statement Of Eligibilty For Firearm Training
Please direct any additional questions to Mr. Lipscomb.
Scout Lead - Andrew Limbaugh
Adult Lead - Mr. Lipscomb, r.david.lipscomb@gmail.com, 678-727-6167
Upcoming
Virtual Troop Meetings & Scouting
Until Further Notice.
Check your email for specific Information.
June 7 - 13, 2020
Summer Camp
Postponed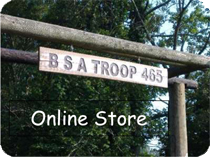 Troop 465 Online Store
Pay for outings, dues, and purchase Troop merchandise