Postponed
Special Olympics - Service Hours Opportunity
Saturday, August 8th
4:00 pm - approximately 8:00 pm (Scouts arrive 3:30 pm)
We will have to postpone the Special Olympics Fishing Event until the fall or possibly until next year. If you still want to complete Citizenship in the community requirements, we are happy to help you find a way to compete them.
Thank you to everyone that signed up to help.
Questions or comments can be directed to Gabriel Mavromatidis, 404-988-5252, p.g.mavromatidis@gmail.com.


Upcoming
January 9, 2021
Issac Zieg's Eagle Court Of Honor
January 11, 2021
Family Auxiliary Meeting
January 23, 2021
Ben Webster's
Eagle Service Project
January 30 - 31, 2021
Cloudland Canyon Campout
February 1, 2021
Registration Deadline
Okefenokee Swamp Canoe Trip
February 13 - 16, 2021
Okefenokee Swamp Canoe Trip
June 13 - 19, 2021
Summer Camp
Camp Rainey Mountain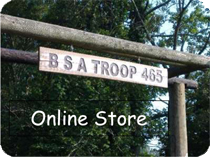 Troop 465 Online Store
Pay for outings, dues, and purchase Troop merchandise