12/12/19 UPDATE
There is some information that needs to be added for Wreaths Across America. We will actually meet at the Scout hut at 8:30 am on Saturday and leave the hut about 9:00 am. The end time will still be the same. Gabriel needs to know by Thursday night who will be attending, he has only heard from two people. Gabriel needs tow know how many people need a ride so he can tell Mr. Sewell if he needs to bring his van. Gabriel also needs to know how many people are going bowling afterwards. If anyone wants to show up early and help unload the trucks there will be volunteers at the cemetery at 7:00 am.


Veterans Cemetery Service Project
Saturday, December 14, 2019, 8:00 am - Approximately 12:30 pm
Georgia National Cemetery, https://goo.gl/maps/toLpFs7nDsyXSJ4W7
Saturday, December 14th Troop 465 will be helping at Wreaths Across America, at the Georgia National Cemetery. If you are able to take some time and help with this event, it would be greatly appreciated. If anyone would like to participate but needs a ride to the cemetery we can get you there. If you need a ride Mr. Lynn Sewell has graciously offered to help transport scouts with his van. If you need a ride we will meet at the scout hut at 8:30 am, and will leave at 9:00 am. If you do not need a ride we will meet at the entrance to the cemetery at approximately 9:30 am. We will stay until the closing ceremony, approximately 12:30 pm. Afterwards we will head over to Cherokee Lanes, see the flier below, we would need at least 10 people for a group rate. If you have any questions don't hesitate to contact Gabriel Mavromatidis. If you are able to make it please let Gabriel know. You can contact Gabriel at p.g.mavromatidis@gmail.com or call/text Gabriel at 404-988-5252 If you would like more information about Wreaths Across America at the Georgia National Cemetery visit https://www.wreathsacrossamerica.org/pages/14806/Overview/?relatedId=0.
Upcoming
July 8, 2020
Isaac Zieg's
Eagle Service Project
Avery Elementary
July 10 - 12, 2020
Patrol Campout
Scout Hut
July 18, 2020
Anthony Palmer's
Eagle Service Project
The Pointe Church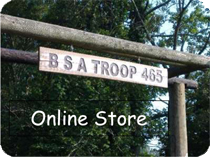 Troop 465 Online Store
Pay for outings, dues, and purchase Troop merchandise