Woodruff Campout
Friday, August 14 - Sunday, August 16, 2020
Woodruff Scout Camp, https://goo.gl/maps/pNBVLKnbCVKmdZRM7
SIGN UP: https://www.signupgenius.com/go/4090a4dafad22a20-troop2
Please sign up for our August Campout at Woodruff Scout Camp in Blairsville, GA. This campout will have opportunities for SWIMMING, CANOEING, exploring beautiful Camp Woodruff, and voting on our 2021 troop activities!
Cooking is by patrol, so each patrol needs to have their menu and grubmaster approved by an Assistant Scoutmaster before August 10th.
Patrol equipment will be issued by the Quartermaster on August 10th.
Due to Covid concerns, each scout will need their own tent. If you need to borrow a troop tent, please see the Quartermaster by August 10th.
Upcoming
January 9, 2021
Issac Zieg's Eagle Court Of Honor
January 11, 2021
Family Auxiliary Meeting
January 23, 2021
Ben Webster's
Eagle Service Project
January 30 - 31, 2021
Cloudland Canyon Campout
February 1, 2021
Registration Deadline
Okefenokee Swamp Canoe Trip
February 13 - 16, 2021
Okefenokee Swamp Canoe Trip
June 13 - 19, 2021
Summer Camp
Camp Rainey Mountain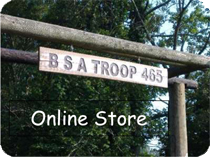 Troop 465 Online Store
Pay for outings, dues, and purchase Troop merchandise