Aluminum Can Recycling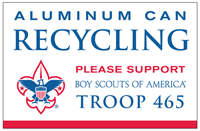 The 465 Alumni have constructed a trailer to collect aluminum cans to be recycled. Not only can you help the environment but you can help the Troop by dropping off your aluminum cans. The trailer sits outside the gate of the Scout hut so it's accessible 24/7. Next time you load your Scout into your car to drop him off at Troop meeting, load those aluminum cans and drop them off at the hut as well.
Upcoming
Virtual Troop Meetings & Scouting
Until Further Notice.
Check your email for specific Information.
June 7 - 13, 2020
Summer Camp
Postponed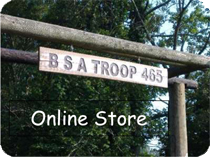 Troop 465 Online Store
Pay for outings, dues, and purchase Troop merchandise