Troop 465 Uniform Bank
The Troop maintains a uniform bank in a closet located on the right hand side of the long room upstairs. The uniform bank has shirts, shorts (lots of shorts), pants, jackets, boots, etc. in a variety of sizes. The way it works is you donate an item take an item or you can purchase any item for $5.00.
Questions about the uniform bank can be directed to Dan Warner.
Upcoming
June 11 - 17, 2023
Summer Camp
Camp Daniel Boone
August 26, 2023
60th Anniversary
Celebration
Scout Hut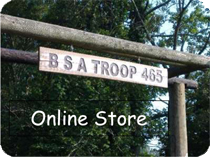 Troop 465 Online Store
Pay for outings, dues, and purchase Troop merchandise