It feels good to give. And itís easy to give with PayPal. Our sponsor, 465 Alumni Inc. has been registered as a charity with PayPal. Donate now and PayPal will cover all transaction fees so 100% of your gift will reach Troop 465. Click Here to donate.
Please pass this along to your friends and family members.
Thank You! for supporting Troop 465 and it's sponsor, 465 Alumni Inc., and it's mission to deliver the promise of Scouting to our community.

Upcoming
June 11 - 17, 2023
Summer Camp
Camp Daniel Boone
August 26, 2023
60th Anniversary
Celebration
Scout Hut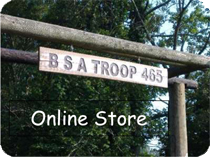 Troop 465 Online Store
Pay for outings, dues, and purchase Troop merchandise