WHAT IS THE 465 FAMILY AUXILIARY?
The 465 Family Auxiliary is a support wing of Troop 465 and our Alumni association. The auxiliary is made up of parents and families of current scouts in the troop, who want to help 465 scouting but are not able to join our Troop Committee as an official BSA volunteer.

There are no membership dues or uniform requirements to join the 465 Family Auxiliary -- only a love for what we do here, and a willingness to help out a couple hours a month.
HOW DOES THE 465 FAMILY AUXILIARY HELP?
The Family Auxiliary assists our Troop and Alumni with the following duties:

Monthly cleaning and grounds care of our ScoutHut.
Organize decorations and meals for ceremonies and Courts of Honor
Conduct select fundraisers for special projects
Provide input and feedback on troop performance to the Troop Committee
HOW CAN I GET INVOLVED?
The Family Auxiliary meets at the Scout Hut on the 2nd Monday of each month at 6:45pm (during our normal Troop Meeting). Please show up and tell someone that you want to help!
Family Auxiliary Coordinator: Tracy Webb - 770-403-6681
Upcoming
June 11 - 17, 2023
Summer Camp
Camp Daniel Boone
August 26, 2023
60th Anniversary
Celebration
Scout Hut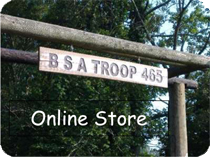 Troop 465 Online Store
Pay for outings, dues, and purchase Troop merchandise