Family Auxiliary
Family Auxiliary Chairs - Susan Limbaugh & Tarah Sears
Meetings, the 2nd Monday of each month at 6:45 pm at the Scout hut.
Troop families,
The Family Auxiliary is a way for other parents and family members to get involved without having to become a registered member of the Troop or BSA. The Family Auxiliary meets monthly, on the 2nd Monday of the month to share ideas, assist in troop function planning and help clean the Scout Center.
In years past, the Family Auxiliary has provided new ideas and much needed support that has helped our Troop to become the organization that it has become today.
If you wish to help, but do not feel that you can provide the time and dedication required to be a Committee member or Assistant Scoutmaster, please join the Family Auxiliary to assist with additional needs of the Troop.
Any questions may be directed to Susan Limbaugh, familyauxiliary@troop465.org
On behalf of Susan, our Family Auxiliary coordinator; the Troop; and 465 Alumni, Inc., thank you for any support you may be able to provide.
Yours in Scouting,
Jason Norred
scoutmaster@troop465.org
678-516-0146
Upcoming
December 4 - 5, 2020
Escalade Climbing Gym Lock In
December 5, 2020
Scout Hut Workday
December 6, 2020
Anthony Palmer & Joey Canale's Eagle Court Of Honor
December 13, 2020
Christmas Court Of Honor
Scout Hut
January 29 - 31, 2020
Cloudland Canyon Campout
February 1, 2020
Registration Deadline
Okefenokee Swamp Canoe Trip
February 13 - 16, 2020
Okefenokee Swamp Canoe Trip
June 13 - 19, 2021
Summer Camp
Camp Rainey Mountain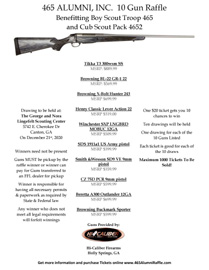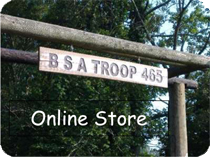 Troop 465 Online Store
Pay for outings, dues, and purchase Troop merchandise