January Family Auxiliary Meeting
I would like to wish everyone a Happy 2021 and all the best for a fantastic New Year!
The Family Auxiliary for Boy Scout Troop 465 will meet this Monday January 11th at 6:45pm at the Scouthut.
All are welcome and encouraged to join us to kick off 2021.
Kristin Roehmer
familyauxiliary@troop465.org
WHAT IS THE 465 FAMILY AUXILIARY?
The 465 Family Auxiliary is a support wing of Troop 465 and our Alumni association. The auxiliary is made up of parents and families of current scouts in the troop, who want to help 465 scouting but are not able to join our Troop Committee as an official BSA volunteer.

There are no membership dues or uniform requirements to join the 465 Family Auxiliary -- only a love for what we do here, and a willingness to help out a couple hours a month.
HOW DOES THE 465 FAMILY AUXILIARY HELP?
The Family Auxiliary assists our Troop and Alumni with the following duties:

Monthly cleaning and grounds care of our ScoutHut.
Organize decorations and meals for ceremonies and Courts of Honor
Conduct select fundraisers for special projects
Provide input and feedback on troop performance to the Troop Committee
HOW CAN I GET INVOLVED?
The Family Auxiliary meets at the Scout Hut on the 2nd Monday of each month at 6:45pm (during our normal Troop Meeting). Please show up and tell someone that you want to help!
Family Auxiliary Coordinator: Kristin Roehmer, 480-235-8416
Upcoming
September 25, 2021
Optimist Club & Special Olympics
Fishing Day Service Project
October 15 - 17, 2021
Trail Days Webelos-ree
Hickory Flat UMC
October 30, 2021
Merit Badge Summit
Atlanta Area Council
Volunteer Service Center
November 12 - 14, 2021
(Tentative)
Scout Skills Academy
Red Top Mountain
State Park
December 3 - 5, 2021
(Tentative)
Shooting Sports Campout
Pickens County
Sportsmen Club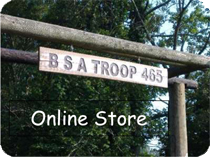 Troop 465 Online Store
Pay for outings, dues, and purchase Troop merchandise