New Scouts
It can be very intimidating to enter into such a large and active organization, particularly if you do not already know someone inside the Troop. Additionally, Boy Scouting is very different from Cub Scouting in that it requires the scout to function so much more independently from parental control. This increased level of responsibility can present a challenge for many boys as they adjust to taking more initiative for their own advancement. Many parents also find it a struggle to identify their role in the scouting process. If you are like me, you want to be an involved parent, yet you don't want to be too "overprotective." If you've never been involved with scouting, you may not know how you can contribute to the organization. It may be that you don't feel like you have the experience, the abilities, or the training needed to be an adult leader in Scouts. Even if you are willing to help out, there are so many adults around, it may appear as if there aren't any needs in the program.
I want you to know that we want EVERY PARENT involved in Troup 465. Not only that, but your son needs you to be involved in scouting. He will be so much more likely to succeed if you are involved in his scouting career. "But I'm not an outdoors kind of person," you may protest. That's exactly what is so great about scouting- no matter what your personality, skills, background, or interests, you can be involved in some way. So as your new New Scout Liaison, whether you are new this year or your son has been in the Troop for years, I want to help you be more connected with the Troop. If you are a parent who wants to be more involved or who would like information about volunteer opportunities, please contact me.
We continuously have new boys entering into Boy Scouts and we want to do everything we can to help them get integrated into the Troop 465 family. We want to see all boys do their best and be successful in scouting and I believe that if we help them start strong, they will be more likely to finish strong. Please join us in the effort of continuing the tradition of excellence in scouting at Troop 465. I look forward to working with each of you as we serve our community together.
Here's a New Scout Equipment Guide designed to help you deteremine what equipment your new Scout will need to have an awesome Scouting adventure.

Upcoming
January 9, 2021
Issac Zieg's Eagle Court Of Honor
January 11, 2021
Family Auxiliary Meeting
January 23, 2021
Ben Webster's
Eagle Service Project
January 30 - 31, 2021
Cloudland Canyon Campout
February 1, 2021
Registration Deadline
Okefenokee Swamp Canoe Trip
February 13 - 16, 2021
Okefenokee Swamp Canoe Trip
June 13 - 19, 2021
Summer Camp
Camp Rainey Mountain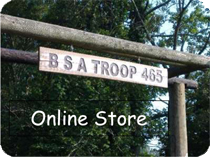 Troop 465 Online Store
Pay for outings, dues, and purchase Troop merchandise