Camping Recipes
Here's a collection of recipes for the Scouts to use on campouts. If you have a favorite recipe you'd like to share, send it to the webmaster.
Meat Loaf
3 lb ground beef
1/2 c bell pepper
1-1/2 c quick oats
2 pkg onion soup mix
2 eggs
1-1/2 tsp salt
1/2 tsp dry mustard
1/4 tsp marjoram
Mix all ingredients and put in casserole pan. Place in Dutch oven. Bake 1 hour, covered.
Mess
1-1/2 lb ground beef
1 can(16 oz) French style green beans
1 can tomato soup
1 small onion chopped
1 can mushrooms
In Dutch oven or large pot, brown ground beef and onion until onion is clear. Drain and add other
ingredients. Heat through and salt to taste. Serve plain or on top of noodles or spaghetti.
Taco Pie
1-1/2 lb ground beef
1 medium jar Taco sauce
4 large corn tortillas
1 8 oz pkg shredded cheddar cheese
1 can (8 oz) tomato puree
Brown ground beef, drain. Combine taco sauce and tomato puree. Line Dutch oven with aluminum foil.
Place 2 tortilla shells in Dutch oven. Place 1/2 of ground beef on top, pour 1/2 taco sauce over top. Place
2 more tortilla shells on top and place in rest of beef and pour remaining taco sauce on top. Sprinkle with
cheese. Cover and bake until cheese is melted. Variations: Add chopped onions, mushrooms or
tomatoes to meat.
1/2 - #10 can, or 2 - 29oz cans, or 4 - 15oz cans - peaches
2 cups - self rising flour
2 cups - sugar
2 cups - milk
2 sticks - butter
Vanilla to taste
Prepare 24 charcoal briquettes
Preheat a dutch oven by placing 8 charcoal briquettes underneath it
Drain 1/2 of the peaches
Mix together the peaches, flour, sugar, milk, and vanilla in a bowl
Melt the butter in the preheated dutch oven
Pour the ingredients from the bowl into the dutch oven
Place the lid on the dutch oven and evenly spread 16 charcoal briquettes on the lid
Bake for 40 minutes
Makes 1 gallon

1 can - evaporated milk
2 1/2 - 3 cups - sugar
1 gal - milk
1 lrg spoon - vanilla
In a saucrpan heat the evaporated milk, a small amount of the milk, and the sugar (just to melt the sugar)
Upcoming
August 19, 2023
Service Project:
Scouthut Workday
Scout Hut
August 26, 2023
60th Anniversary
Celebration
Scout Hut
August 25 - 27, 2023
Planning Campout
Scout Hut
September 8 - 10, 2023
Webelos-ree
Location TBD
September 30, 2023
Service Project:
Special Olympics
Fishing Picnic
Darnell Family's Lake
October 20 - 22, 2023
Scout Skills Academy
Camp Allatoona
Aquatics Base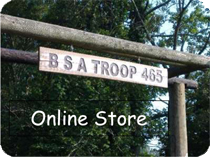 Troop 465 Online Store
Pay for outings, dues, and purchase Troop merchandise