Andrew Gollner's Eagle Court Of Honor & Reception
Sunday July 16th 3:00 pm - 5:00 pm
Rock Springs Baptist Church, 1640 Rock Springs Ln, Woodstock, https://goo.gl/maps/Jwrz32my2bw

Please join us for Andrew's Eagle Court of Honor & Reception. Thanks to all of you who have helped Andrew throughout his years in Boy Scout Troop 465 and Cub Scout Pack 464. A special thanks to all who helped with his Eagle Service Project. We would love to have you join family and friends to celebrate Andrew becoming an Eagle Scout. The ceremony will start at 3:00 pm and dinner will be served immediately afterwards in the fellowship hall.
Please RSVP to vicki@gollners.com with a headcount by July 14th. Hope to see you there.

The purpose of the Boy Scouts of America, incorporated on February 8, 1910, and chartered by Congress in 1916, is to:
Provide an educational program for boys and young adults to build character.

Train in the responsibilities of participating citizenship.

Develop personal fitness.
How you can get involved:
JOIN as a youth member with Troop 465.

VOLUNTEER as a Troop Committee member or Assistant Scoutmaster

GIVE to 465 Alumni Inc. to support Troop 465's sponsor.
Serving youth for over 50 years, Troop 465 has had a proud heritage of molding boys into men according to the criteria listed above. Our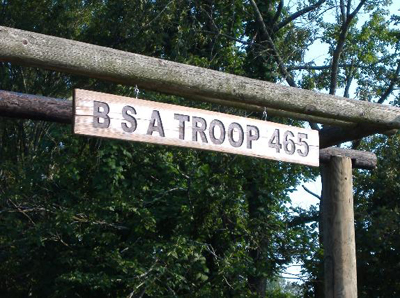 Scoutmaster Emeritus, George Lingefelt, say's "If you want boys to become leaders, you have to train them and then let them lead", and thus began our "boy-lead troop" mind set. Clay Limbaugh is our current Scoutmaster and passes these skills on. In fact, Scoutmaster Limbaugh is only our 7th Scoutmaster since 1963.
Since 1996, the Troop Sponsor has been 465 Alumni, Inc., dba Friends of Troop 465, a non-profit organization specifically enacted to support Troop 465 both financially and philosophically. Troop 465 has a permanent Scout Hut, on over 3 acres, thanks to the generosity and foresight of 465 Alumni, Inc.
Troop 465 is unique because of the tremendous support from our members and their families. If you would like more information about joining troop 465, please click here.