Summer Camp
June 11 - 17, 2023
Camp Daniel Boone
Its time for us to start the planning process. Camp fees this year for Base camp are $440. This payment can be made in two payments of $220. The first payment will be due on February 1st and the second payment will be due on March 1st. If your scout is participating in Boonesboro, there is an extra fee for that. Any additional fees will be due by April 1st.
Action needed:
You will receive an invoice. The first payment of $220 is due February 1st.
Its going to be a great time at Camp Daniel Boone! Daniel Boone is located at: 3647 Little East Fork Rd., Canton, NC 28716 https://goo.gl/maps/cAisZfQL53jBaC7S7
We will meet at the Scout Hut on the morning of June 11th and return in the evening of the 17th. We will need volunteers to help drive scouts.
If you have any questions, please contact Cami Zieg, camizieg@gmail.com, or 678-481-9070.
3/11/2023 UPDATE:
Summer Camp Schedules
This Monday, March 13th during our Troop Meeting - we will be discussing Summer Camp class schedules. Please review the following document with your scout and together discuss your joint expectations for Summer Camp.
https://www.campdanielboone.org/files/46248/2023-mb-class-schedule
You will notice that some classes at Daniel Boone are full day, and some are half day. But most classes are only one day long. (Only Swimming, Cooking, Climbing and Animal Science/Horsemanship are taught over two days).
If you are a parent that would like to listen in to the schedule discussion at the troop meeting on Monday, please join us for our Opening Ceremonies at 7:00pm. We'll be done with this topic by 7:30. I will have printed copies of this schedule at the meeting, and ask scouts to begin circling their preferences. All scouts will need to turn in schedule request no later than the March 27th troop meeting.
If you still have not registered for Summer Camp, there are ONLY 10 youth spots left and the deadline is Tuesday, MARCH 28th!!!
Sign up here: https://www.signupgenius.com/go/4090b45afae2aa57-camp.
Top Ten Reasons to Attend Camp Daniel Boone: https://www.campdanielboone.org/files/10670/Top-Ten-Reasons-to-Attend-docx
Still not sure? Look over the 2023 Camp Program Guide to learn more about CDB. https://www.campdanielboone.org/files/44981/2023-program-leaders-guide.
Upcoming
March 24 - 26, 2023
Spring Camporee
Woodruff Scout Camp
April 28 - 30, 2023
Merit Badge &
Fishing Campout
Camp Allatoona
Aquatics Base
May 12 - 13, 2023
Lock-in
Escalade Rock
Climbing Gym
June 11 - 17, 2023
Summer Camp
Camp Daniel Boone
August 26, 2023
60th Anniversary
Celebration
Scout Hut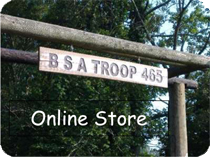 Troop 465 Online Store
Pay for outings, dues, and purchase Troop merchandise