Summer Camp
June 2020
Camp Salacoa
Summer Camp 2020 Questionnaires
Summer Camp 2020 is coming, and while it is still a ways out we want to go ahead and get some information together to help us get the ball rolling. Below are two links to two questionnaires for this year's upcoming summer camp. One survey is for scouts to fill out regarding merit badges and this year's summer camp schedule. This is the main avenue that we are using to get the scouts input for camp this year. Please encourage and assist your scout with filling out the scout questionnaire.
The other survey is for adults that are planning/thinking about helping or being at summer camp this year. We know that June is a ways out, and that is why this survey is just to allow us to start to get a feel for what we are looking at in terms of adult participation and help. Summer camp is a big event and takes a lot of people to make it run smoothly. We understand that not everyone is able to take off a week to be at camp, but we would love to have you help out with anytime that you can provide. That is why it is so important for you to take a moment to fill out this adult volunteer survey.
Scout Questionnaire Link: https://forms.gle/XuLEdPM8w9TJMd4T7
Adult Questionnaire Link: https://forms.gle/WmpqV8rzq4e8sZh5A
We appreciate your cooperation and participation.
Thank You!
Cody Lamanac
Camp Director – Camp George 2020
Mike Palmer
Camp Director – Camp George 2020

Summer Camp Online Payments
We are starting our initial preparations for Troop 465 Summer Camp at Salacoa! This year, in an effort to help parents budget for the cost, we have established a link for payments to be made now.
https://squareup.com/store/troop465/item/summer-camp
If you click on the link, you will be able to make installment payments in multiples of $40 for your Scout. The fee will include all food, Merit Badge pamphlets, materials, and transportation to and from Salacoa from the Scout Hut.
For those parents who wish to do so, you can start paying $40 per month, and that amount will be held by the Troop in your son's account for Summer Camp. If your son ends up not being able to attend, we will of course refund that amount.
If you have any questions, please contact me.
Thanks,
David Canale
Committee Chair
678-467-2421
cchair@troop465.org

Upcoming
November 8 - 10, 2019
Hornaday Conservation Weekend
November 18, 2019
Submission Deadline
2020 Recharter
November 23 - 24, 2019
Troop Leadership Training & Gaming Lock-in
December 14, 2019
Veteran's Cemetery
Service Project
Wreath's Across America
December 22, 2019
Christmas Court Of Honor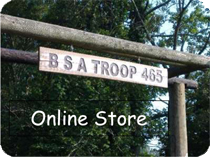 Troop 465 Online Store
Pay for outings, dues, and purchase Troop merchandise